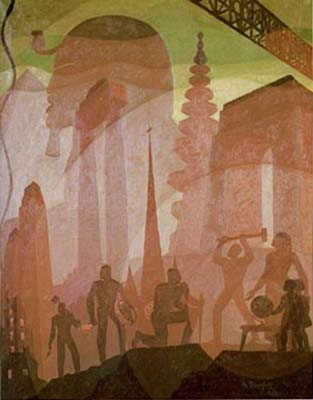 "Building More Sately Mansions.1944"
Represents the progression of cultures and civilizations from the dawn of recorded history to the present.
On the upper left, Africa is symbolized by a Pyramid and a Sphinx with a Dan mask profile. Several towering columns cover the range of all civilizations: temple, pagoda, skyscraper..
In the foreground, Africans-Americans working in agriculture, construction, science and industry.
The final figure is the use of concentric circles of light, hightlighting a mother or teacher with two young children and a globe.

This technique of layering shows the knowledge of Cubism: Literal Transparency.